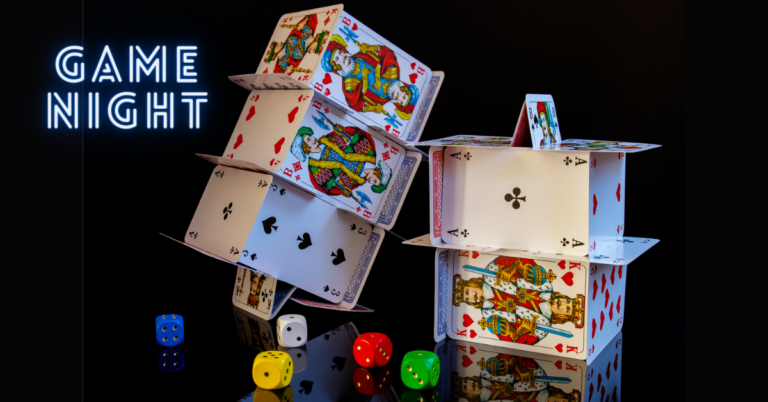 How to Enjoy a Virtual Game Night with Colleagues
Thanks to Kristen Toohill for this post about options for a virtual game night! Kristen recently co-authored a book with Scott Crabtree titled All Work & Some Play: Future Proof Your Career through Games. Her past experience includes working in the video game industry as a Quality Assurance Tester and SCRUM Master. In addition, she's done organizational development & games work for Green Tree Games and Revelian, plus qualitative research in the tech and comic book industries. She's currently a doctoral student in the Leadership PsyD program at William James College.
Investing in Play Goes a Long Way
Looking for ideas to hold a virtual game night with your team? You've come to the right place!
At Happy Brain Science, we're always excited to share the science-backed benefits of games. Playing games with colleagues, in particular, can be a powerful way to build rapport and strengthen relationships. Not to mention that it boosts essential skills, including the "4 C's": communication, collaboration, creativity, and critical thinking.
For many of us, engaging with our colleagues has gone fully virtual—requiring us to significantly adapt how we use those skills. In many cases, we're still discovering how to really stay connected with each other remotely.
Fortunately, games are a fun (and effective) way to help bridge the gaps. The big question right now is: How can teams play together online?

We like to "walk our talk" (especially when it comes to games!), so we held a recent Happy Brain Science game night featuring Codenames, Buffalo, and Wavelength. Those games were originally designed to be played in person—but one has a cool new web interface, and we modified the others to work across our varied locales, from Portland to Boston to Cebu.
Verdict: All three got us laughing together and learning new things about each other:

Choose Your Virtual Game Night Adventure
So let's say you've learned about the science of playing games at work, and your team is excited to try a game together…how do you actually run a virtual game night?
First, consider what you'd like to get out of it. Is your goal to connect and have fun, to hone a particular skill, or both? (Our book can help with that!)
Next, pick a game (or games) to fit your goals—and your group. Different games are available in different formats, and each format has its upsides and challenges. Here are 4 remote game formats I've enjoyed:
1. Online board & party games (best option)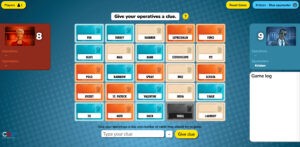 Some games have free web versions that work extremely well. My favorite of these is Codenames: it's beautifully implemented, easy to teach to new players, and doesn't require a webcam or video conferencing software. That said, if you use video conferencing side-by-side with it, like we did, it's even more fun to interact verbally—and see everyone else giggling and looking stumped.
Many other games fall in this category, including Secret Hitler (a game of intrigue that's also a fantastic conversation starter about resisting fascism) and Catan. Searching for "play board game online" reveals a plethora of options. For multiple board games that can be played from a browser, a colleague particularly likes Board Game Arena.
Jackbox Games also fit this category—they're designed to be played by large groups of people together, and they translate easily to a remote environment. (Our previous Happy Brain Science game night featured two of these.)
2. Physical games that translate well to Zoom (recommended)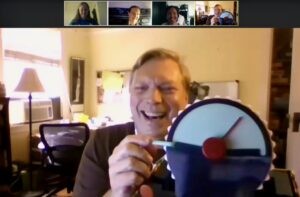 For this option, the player who owns a copy of the physical board or party game sets it up to play via video conferencing. Depending on the game, they may put the board on a flat surface with a phone camera over it and/or hold up the relevant game pieces for the group to see. They also act as the table facilitator (i.e., they explain the rules and move the pieces according to the other players' directions). This works surprisingly well as a medium-tech solution. I've played Pandemic, Wavelength, and Buffalo via Zoom this way and had a great experience every time.
The key is picking games that either have no hidden information, or where the hidden information can easily stay hidden. For instance, it's hard to play poker if one person holds all the cards and knows what they are! When we played Wavelength, the person who was guessing closed their eyes as the wheel was revealed to everyone else. In addition, collaborative games—games that pit the players as a team against the board—such as Pandemic, Forbidden Island, etc., are a great choice for this method.
3. Video game versions of tabletop games (some tech skills required)
Some games have standalone video game versions. Most modern game distribution platforms offer more than just solo games: they often have built-in chat functionality and the ability to play games together remotely. For example: I own a video game version of Pandemic on Steam. I can boot up the game and invite my friends to play. The only thing they need to do is sign up for a free Steam account to connect to my copy of the game. It requires a bit of technical setup on the players' side, such as downloading Steam, signing up, becoming friends (by clicking a link I send from my Friends page), and joining my game (usually by clicking an invitation link I send in chat). As a result, this option may require some collaborative troubleshooting if some players are less comfortable with technology than others.
Once they're in, however, it allows players to enjoy games of varying complexity. (Hidden information games are possible!) It's also the most aesthetically pleasing and the easiest to control once you're in the game. The user interface has been tested and optimized, and the game is designed to be both beautiful and easy to play. This option works the best for games that are more complex.
(Not necessarily recommended, but I want people to know this tool exists!)
Within this category, there's a beautifully versatile option called Tabletop Simulator. It's literally what the name says: it simulates a tabletop, so you can play any board or card game in it. (You can even flip the table if the game gets too annoying…and there's a button to revert the table flip, so you don't have to play 52-card pickup every time someone gets frustrated.) I played Citadels with some friends on it, and it worked great.
There are two downsides. First, it's technologically complex: you have to learn the specifics of the game and how to do basic actions like flipping over cards, shuffling, passing a deck, etc. Also, each player has to own a copy of Tabletop Simulator (which is $20 when it's not on sale). I use this for my personal game nights, but hesitate to bring it into a team if I'm not sure of the technological expertise of all players. It can be the best option—it's the most versatile and reusable!—but only for teams that can pick up new technology easily and have a bit of spare cash on hand.
4. Play by post (better for ongoing games instead of a game night)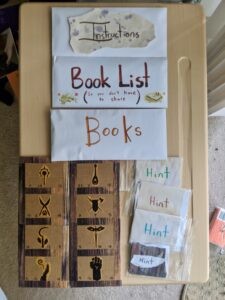 Back in the olden days of yore (before the internet), if you wanted to play a game with someone remotely, you played by post. Both players set up a game board—usually chess—then you mailed each other a written copy of your next move. When you received a letter by mail, you would update your board, contemplate your move, and mail your decision back to your opponent.
Nowadays this is done online, via email or forum posts. Multiple forums can work well, such as Discord, Slack, an appropriate sub-Reddit, etc. This format allows a group of people of any size to play asynchronously (i.e., not at the same time) by writing and responding to each other throughout the day, week, or month. Although you could technically play any game this way, I like it best for story-building games—games that make the most of the fact that you're writing narratives to each other. Spooky season is coming up soon, and Mafia (sometimes called Werewolf) is perfect for this format.
Tips for Virtual Game Night Hosting Success
With any of these options, you'll have an organizer and players. Depending on the game format and total number of players, you may also find it helpful to have one or more table facilitators. Here are a few tips to consider:
Organizer
The organizer role is what you'd expect: they gather players' names and contact info and make sure there's a plan to get everyone connected, clear on the rules, and ready to play. For larger groups, they might train table facilitators on any relevant technology and the flow of the game night: how people sign up, how they join the game, etc. During the virtual game night, the organizer is the point of contact for confused players who need assistance.
For larger groups, it works well if the organizer hosts a main Zoom room and creates a breakout room for each table facilitator. This makes it easy to help players who are confused, since the organizer can connect with them before sending them off to a game. Whenever a table finishes a game, the players can exit their breakout room and be put back into the main room to re-form into new groups to play other games.
Table facilitator
A table facilitator is someone who understands and/or owns the game. It's basically the same role from an-person game night—the table is just digital instead of physical. For a small group, the organizer may double as the table facilitator. For a large group, having more table facilitators than needed is good, since they can easily become players instead. (It's harder to convert players into table facilitators if they aren't prepared for that role.)
Players
Players are your team members who show up to play games! They should RSVP ahead of time so the organizer can get a headcount and send a Zoom link. Ideally, they should also complete any required set-up steps in advance (such as installing Steam if you go that route).
Of course, the best way to figure out what will work is to try it! I'm free to test out games in the name of science anytime to see what solutions work for you.
Thank you to Kristen for this post! For more on the value of games—including great reasons to play games with colleagues—please check out the book she and Scott recently published. Meanwhile, we'd love to hear if you've experienced a virtual game night with your colleagues. How did it go, and what tips would you like to share? Thanks for commenting below, connecting with us through any of our social media channels, or contacting us here.