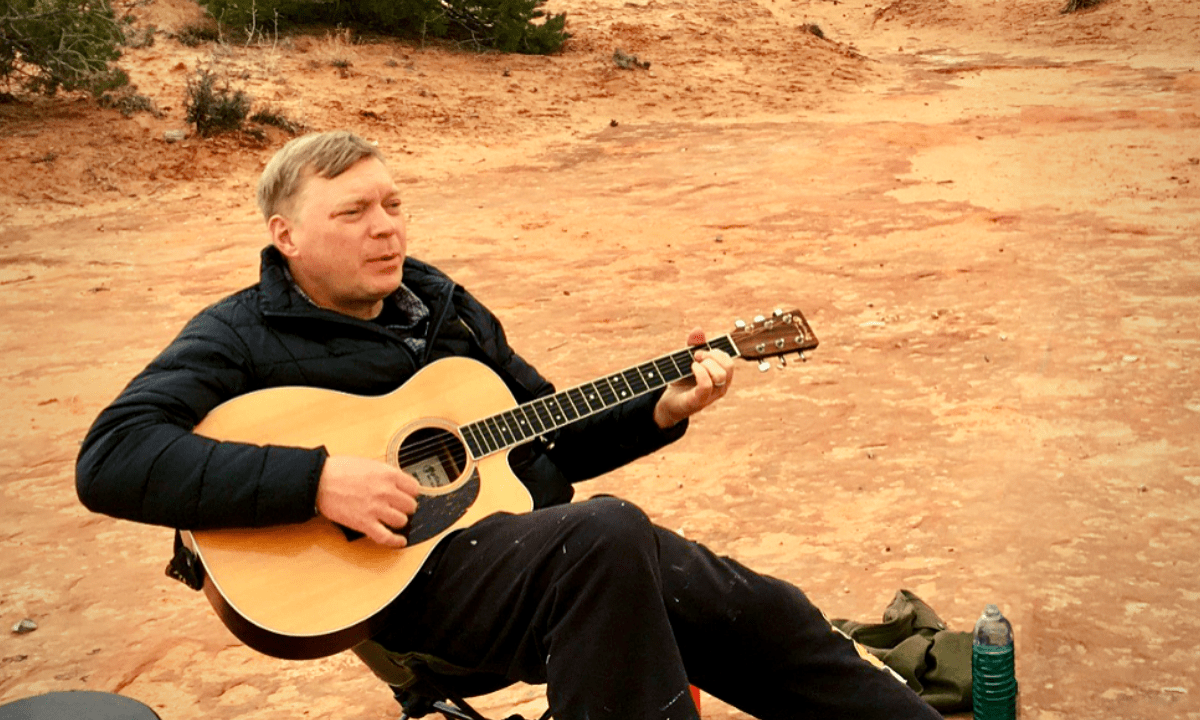 The Contagious Effects of Kindness and Connections
How much impact can one act of your kindness have? And how can it lead to new connections?
Let me tell you a story.
Because Cathey Armillas urged the members of our mastermind group to be creative with our updates in last month's meeting, I wrote a song about moving to Sisters, Oregon. After I performed the song, my fellow mastermind speaker Patrick Galvin sent me a kind note that encouraged me to play the song on Cascade Avenue, the main street running through downtown Sisters, as a way of finding fellow musicians in my new town. I hadn't thought of it, and loved the idea…but was uncertain. Was it really a good idea to busk on the streets of Sisters? Would it be weird?
Taking the plunge
Inspired by Patrick's message of service, I decided busking would be OK if I made it clear I would donate all the money to charity. It was a sunny, warm day, so I worked up my courage and took my guitar downtown. Nervous, I sat on a park bench (wearing a mask due to the pandemic), took out a piece of paper, and wrote: "All $ goes to Sisters nonprofits: Seed to Table…"
"Excuse me, do you know if there's a guitar shop around here?"
I looked up, and a young man was looking at me. I smiled beneath my mask and said, "Hmmm, I only moved here about 10 days ago, but I feel like I saw a guitar shop nearby. I can't tell you exactly where it is, but I'm pretty sure it's one block north, and 3 or 4 blocks east or west from there…but it's kind of the blind leading the blind here."
"OK, cool, thanks. I'm a music producer from Hawaii here on business. I've been here about 5 days and I didn't bring a guitar, and I'm realizing it was a mistake. I want to try to get a guitar," he said.
I asked him about being here on business, and he explained that he was working on some music and fundraising for nonprofits. "Cool," I said. "I totally understand that. Well, here's my card—if you have any trouble finding a guitar, let me know if I can help somehow."
"Thanks. I'm Brett. It's great to meet you. So you're just about to play here?" he asked.
"Yeah," I answered.
Then he saw my sign. "Oh, you're donating the money you raise to charity? That's great! Here, I'll get you started." He then put $20 in my guitar case. I was blown away—I hadn't been sure I would raise any money, and I already had $20 before I even started playing. I thanked him profusely. He asked which nonprofits I was donating to.
I explained as I worked on completing my sign, "I thought I would donate to Seed to Table, Sisters Trails Alliance—and I was going to ask people who donated who else I should support. You just donated, so who do you think I should support?"
"Oh, Heart of Oregon," he answered. "They do great work providing opportunities to at-risk youth."
"Oh, cool!" I said. "That's great!" And I wrote down Heart of Oregon as the third charity on my sign.
"You're donating to three charities! That's awesome…here's two more twenties for the other charities," he said, putting $40 more into my guitar case.
Now I was really blown away! I had raised $60 for charity before I played a note, just by getting into a conversation with the right kind, generous person. He said he was off to try to find a guitar, and if he found one, he would come back and play a few songs with me. I was thrilled.
Making music & meaningful connections
I set up and started playing. To my pleasant surprise, more complete strangers added charitable donations here and there to my guitar case.
About an hour later, Brett showed up again, with a guitar in hand.
"You got a guitar!" I exclaimed.
"You won't believe this story," Brett said. "I went driving looking for the guitar store, and couldn't find it. So I parked my car and walked around for about 20 minutes looking for it, and still couldn't find it. Giving up, I returned to my car, and then noticed a music symbol on a place right where I had parked my car. I had parked right at the place! I went in there, and there was a woman giving a lesson. I apologized, said I thought it was a music store, and asked if they sold guitars.
"She said it was OK, and to hang out just a minute while she finished the lesson. Then she said that they had only one guitar for sale. It was heavy—and I said I was going to give it to a friend when I was done and it would be too heavy for them, so thanks but no thanks. We kept talking and realized we had all these things in common. I explained that I was doing fundraising for nonprofits, and she said that she had a nonprofit doing music education. I said that was the kind of charity I just had to support and made a donation on the spot.
"We kept talking, and we realized that we had both lost older siblings. I was about to leave, and she told me that she had one more guitar. She was never planning on selling it, since it was her deceased sister's guitar. But because I was planning on giving the guitar to a friend, she said that it would be the best way for her sister's guitar to live on. So she gave me this guitar."
The connections continue…
I was astonished. What a beautiful story, set of connections, and chain of kindness. To be completely candid, I also lost my sister last year, so this connection around the loss of siblings was very meaningful to me.
And it all started because Cathey asked us to be creative, and Patrick made a kind suggestion to me.
What positive chain reactions have started because of your kindness? You may never know! But here's one thing I know based on science: you will be happier because you were kind.
May you be the catalyst for a wonderful, generous, happy story sometime soon!
(Since I wrote this post, I've had the pleasure of connecting further with Brett and the owner of the music studio in my new home of Sisters, Oregon. Special thanks to Rebecca French, Founder of Bald Eagle Music Education Station, and to Brett Moore, for their kindnesses that inspired this story, and for their permission to share it.)
What struck you most about this unexpected adventure? What new connections have acts of kindness led to for you? Thanks for commenting below, connecting through any of our social media channels, or contacting me here.