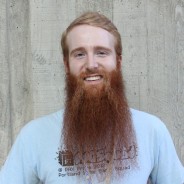 Meet Will: Leader of the PIGS
Enter Will Lewis, the Lead Community Organizer for the Portland Indie Game Squad (PIGSquad) and a co-director in Pixel Arts Game Education, reaching and teaching to so many game-interested minds in the Portland area.
I've been working with Scott on his game-in-progress, codename: "Choose Happiness," for the past few months, providing coaching and feedback on rules, graphics, design, content, and production for this awesome project. It's been a pleasure working with him as well as being able to flex my game design muscles on something I've never seen to fruition before: a serious game, a "game for change," or an empathy game, as many are calling them.
In my primary day-to-day, I'm invested in games that feature things like space ships, monsters, collecting treasure, parkour, etc, helping others in the Portland game developer community to showcase their work and meet those who can help them produce it. Scott asked me to join in and help with Happy Brain Science after we met at a panel titled "Gaming for Social Good," which was hosted by my now-co-director Jeffrey, with whom I teach game making to kids in under-served areas of Portland.
And here I am, collaborating on creating a game aimed at helping workplace communities meet problem solvers, encouraging creativity, social awareness, and a bit of brain science along the way. A good little mix of everything I've been doing in community building for the past few years, and –surprisingly– my first serious game!
How are you using communities in your work and personal projects? Can you think of any ways that you might be able to join or influence a community to help better yourself and others? You may not be a leader of PIGS, but I feel everyone should have an outlet!