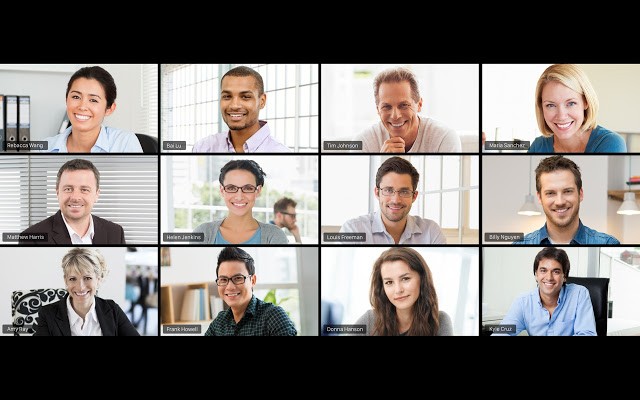 Building Strong Virtual Teams: New Five Part Master Class Series!
Wouldn't it be helpful to lead a strong virtual team during these tough times?
I know how hard it is to build a strong virtual team. I've led teams for over 30 years, and I've dealt with communication problems, draining workloads, excess stress, and disengaged employees…and all of that was under "normal" circumstances! Leaders like you are now trying to lead during the most turbulent time most of us have ever witnessed in the world.
Trying to work remotely during this surreal time can leave us feeling sad, frustrated, and exhausted. We aren't bringing our best brains to work, and neither are those we lead.
But the good news is that scientific studies provide techniques to build stronger, more engaged, and more effective teams.
Today I'm thrilled to announce a new 5-part master class series that will help you boost resilience, well-being, productivity, and success!
By joining this class, you'll transform your leadership and empower your team. You'll boost happiness and engagement for yourself and others during these tough times, so all of you can more effectively cope and innovate.
A rare opportunity that only lasts until July 1st, 2020
Until July 1st, you have a chance to join this exclusive group that will run every Wednesday from July 15th through August 12th:
Building Stronger Virtual Teams: focused on helping you and your team play to your strengths each day. This group features the Strengthsfinder 2.0 assessment and content from our workshop Truly Tapping Your Strengths—and Those of Your Team, to help you identify and leverage what you and your colleagues do best.

Here's what one participant said about her experience in a previous Happy Brain Science group class:

"I was able to learn from—and feel supported by—fellow leaders from a variety of organizations. I recommend a Happy Brain Science group to anyone who wants to master their ability to lead happy, engaged employees." —Leslie Weldon, VP

Read what others are saying here.
If this opportunity sounds like a good fit for you, take 3 minutes and register by the deadline of Wednesday, July 1st, 2020.

Want to learn more? Read on:
Is this for me?
If you are a smart, forward-thinking professional who leads others, this series of classes is for you. You might be officially managing people, or you might be someone that others look to for guidance (most leaders are unofficial). No previous experience or prior knowledge is needed to participate in this group.
What are the goals?
The theme for this group is Building Stronger Virtual Teams; if your goal is to do more of what you do best each day—and help your team do the same—join this group. That said, your goals could be as varied as:
Supporting unhappy employees during difficult times
Improving energy and performance at work
Helping employees deal with change
Finding your own joy at work
Boosting employee engagement
Who's facilitating this group?
The group will be facilitated by me, Scott Crabtree, along with my colleague Cathy Jimenez. We've helped hundreds of people and organizations, including repeat clients such as DreamWorks, Boeing, Intel, HP, Kaiser Permanente, NBC, and Nike. We'd be honored and delighted to serve as your guides to the science of strengths, too. Please let us help you build a strong virtual team!
When and how will we meet?
We will meet over Zoom video conferencing. (It's easy, dependable, and you can call into the meeting if you prefer.) Sessions will be every Wednesday, 2-3pm Pacific Time. We will meet 5 times as a group. Meetings will start July 15th, 2020 and end on August 12th, 2020.
How much does this series cost?
We previously offered a group like this for over $1,000. During very tough times like these, we want to help as many people as possible, so we are offering this series on a sliding scale, from $199 all the way down to $0 if that's what you need right now. You'll let us know what you can pay during your registration.
Please note that while not required, we strongly recommend you take the Clifton Strengthsfinder 2.0 assessment and bring your results to this series. Strengthsfinder is sold separately and costs about $20.
Science suggests that a boost in happiness raises productivity 10%-25%. Data from Gallup indicates that teams that play to their strengths are more engaged and productive. Joining this group is an investment in your success! Are you ready to choose to thrive at work?

Is there any guarantee?
In the highly unlikely event you put in the work but don't get results, you'll be entitled to a 100% refund. Your satisfaction is guaranteed! Please join us in mastering your ability to lead a strong team during tough times; take 3 minutes to register now.
Will there be "homework" between meetings?
You will leave every session with "homework." The homework will typically be to read or watch information about strengths, to practice identifying strengths in ourselves and others, or to put those strengths into action.
The homework typically will take about 15 minutes to complete. Participants can, of course, choose to commit to additional action between sessions. Holding each other accountable is one way that members help each other.
You will ultimately create a detailed action plan to build helpful habits during our time together and sustain momentum after we wrap up.
What do previous clients say?
You are welcome to read testimonials from my previous clients here.
What if I have other questions?
Please email Scott@HappyBrainScience.com and tell me what questions you have. I'll be happy to answer by email or schedule a time to chat.
How long do I have to decide?
I'm accepting applications only until midnight (Pacific Time) Wednesday, July 1st, 2020. Take 3 minutes and register now! We'll contact you by July 8th, 2020 to let you know next steps.
How do I register?
Simply click the button below. Thanks for applying to join us in Building Stronger Virtual Teams!