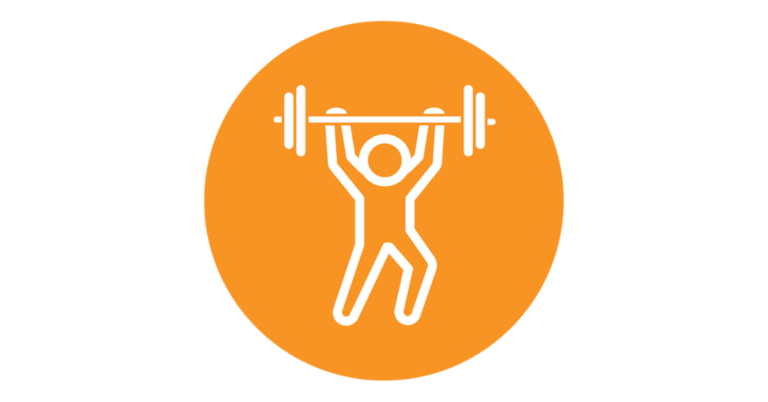 How To Use a "Strengths Board" to Boost Your Virtual Team
What is a Strengths Board? And how can a visual display of strengths help you & your team cope with working remotely?
If you're like most people I know, your way of working has been turned upside down since March 2020. For many of us, working remotely has become the new normal. While there are advantages to telecommuting, striving to maintain an engaged, effective, strengths-based team dynamic has become even more challenging. As a leader, how can you develop (and sustain) a strengths-based approach in a virtual environment?
Building Strengths Virtually
Recently, Happy Brain Science offered a 5-part masterclass titled Building Stronger Virtual Teams. Over the course of the series, we shared different ways to examine beliefs about strengths and weaknesses, discover strengths, and act on those strengths. We unpacked why it's important to use our own strengths more often at work—and also go beyond that to leverage the strengths of everyone on a team.
But if your team members are out of sight, how can you keep their strengths in mind? Here's one simple solution we've adopted at Happy Brain Science: create a Team Strengths Board!
What Is a Strengths Board?
A "Strengths Board" is like a vision board. Similar to a vision board, a Strengths Board can prime your brain to recognize opportunity. However, instead of depicting future goals, a Strengths Board shows your team members' photos along with each person's top strengths. If you post it somewhere visible in your workspace, it becomes a helpful tool to keep remote team members' faces fresh in your mind, along with their top CliftonStrengths results (more on that in a moment).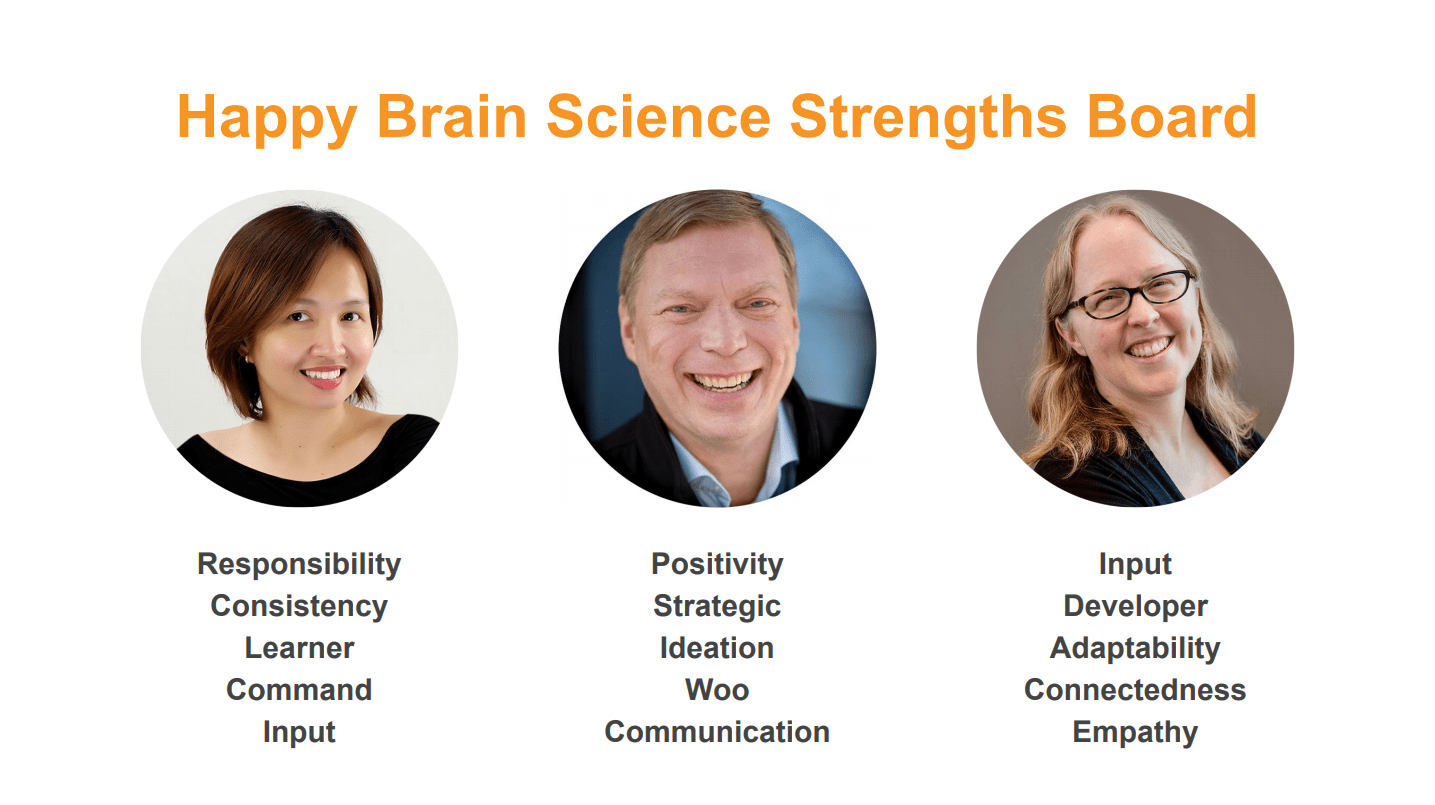 How Does the Strengths Board Work?
As you can see, those of us at Happy Brain Science have different top strengths. So how do we use the Strengths Board (and our diverse strengths) to guide our day-to-day work activities? If Scott needs someone to do research with a quick turnaround time, he often relies on me (drawing on my Responsibility, Learner, and Input strengths). If he needs someone to help him consider an idea from multiple angles—with a focus on a customer service perspective—he often turns to Kim.
That doesn't mean we don't have overlapping skills and interests. For instance, if Kim is busy and there's a task I can help out on, I step in to assist (and vice-versa). And of course, we keep an eye out for ways that each of us can cultivate new skills and nurture our underused strengths. But the Strengths Board helps us collaboratively identify and discuss who's best suited to work on a given task, based on our talent + energy and bandwidth.

In our experience, a

Strengths

Board

can be especially useful when considering how to:
Delegate tasks
Collaborate effectively with colleagues
Present information persuasively to upper management
Provide meaningful feedback
Support growth & development
Why Strengths?
According to Gallup, employees on teams that play to their strengths are:
38% likelier to work in more productive business units
44% likelier to work in business units with higher customer satisfaction scores
50% likelier to work in business units with lower employee turnover
In general, when it comes to managing remote teams, Gallup has uncovered a few consistent keys to success. These include setting clear expectations, communicating regularly (including building in time for social interactions as needed), providing practical and emotional support—and taking an individualized approach with each employee. One of the best ways to take an individualized approach is to get familiar with people's strengths. As Gallup puts it:
"Managers in strengths-based businesses have a huge asset—they can predict employees' reactions. Whether that means a driving need to complete projects, keep promises, maintain relationships or any other motivator, those traits are powerful … and different for everyone. Managers will need to individualize to the person to get the best performance."
No CliftonStrengths Data? No Problem!
So how do you know which "top strengths" to list for each person on your Strengths Board? When someone is using their strengths, their performance is consistently near peak level. They look forward to doing those activities, enjoy them while doing them, and feel energized afterwards.
One option is to encourage team members to document what they're doing when they're performing well and feeling energized, and also pay attention to when they feel drained. Feedback from others can also be useful. In fact, "spotting strengths" in others—by sharing what you notice about tasks they do well and seem energized by—can help people feel recognized and appreciated.
If you'd like to use an assessment tool (which has the benefit of giving your team some common language to use), there are multiple possibilities to consider. For instance, Gallup's online CliftonStrengths assessment identifies your top talents—your natural patterns of thinking, feeling, and behaving—in the order in which they best fit 34 themes. It's one of the most recommended, scientifically-grounded strengths assessment tools available.
An alternative to CliftonStrengths is Strengths Profile. Strengths Profile pulls from a set of 60 categories to provide a profile of your top realized and unrealized strengths, learned behaviors, and weaknesses. For free options, you could consider the VIA Character Strengths assessment (which identifies character strengths) or the High5 assessment (which identifies top talents based on 20 different themes).
CliftonStrengths and Strengths Profile are similar in that both are rooted in positive psychology, and both have a basic version that costs under $20. A key difference is that Strengths Profile specifically identifies areas of weakness. Given our human propensity towards a negativity bias, it's important to remember to focus on identifying and developing strengths—and in many cases, consider workarounds for areas of weakness.
Build Your Team's Strengths Virtually
Applying strengths at work significantly increases engagement and job satisfaction. It gives employees the energizing effect that comes with excelling at tasks. And leveraging strengths across a full team allows both individual members and the team to thrive. When you encourage team members to use their strengths more often—especially on virtual teams—it empowers everyone to realize their full potential, even in turbulent times.
Even a simple change, such as making a Strengths Board, can bring you closer to creating a strengths-based work culture. Try out the Strengths Board and let us know what you think!
We'd love to hear from you, either about this topic or about other ways you promote strengths at work. (And if you'd like to do a deeper dive on strengths with your team, Scott's virtual session on Truly Tapping Your Strengths—and Those of Your Team might be up your alley.) Thanks for commenting below, connecting with us through any of our social media channels, or contacting us here.